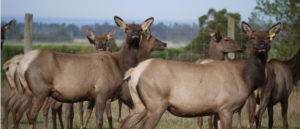 Leptospirosis, or Lepto, can affect a wide variety of livestock including deer.
There are three predominant strains or serovars of Leptospira bacteria that can affect deer:
Leptospira Hardjo-bovis is the most common one, causing mild infections and sub-clinical disease. It does have the potential to cause significant production-limiting effects through reduced growth rates in weaner to yearling deer and reduced calving percentages, especially in first-calvers.
Leptospira Pomona is the primary serovar responsible for clinical disease in deer. This can present as blood in urine (Redwater), jaundice, dullness, loss of appetite and even death. L. Pomona tends to be carried by infected pigs without obvious effect for a long period of time. Therefore they are referred to as reservoir hosts.
Leptospira Copenhageni is much less common, carried by rats (reservoir hosts), but will cause severe disease much like Pomona in livestock species including deer.
All three strains can infect humans and cause disease.
Leptospirosis is likely a significantly under-diagnosed cause of clinical and sub-clinical disease on deer farms. Blood sampling surveys carried out from the mid-2000s showed that 82% of deer herds throughout New Zealand were infected with Lepto.
L. Hardjo-bovis was found to be present in 77% of herds and 60% of deer. L. Pomona was present in 20% of herds and 8% of deer. Concurrent infection with L. Hardjo-bovis and L. Pomona was present in 17% of herds and 7% of deer. There was also some L. Copenhageni infection found.
It was found that there was a higher risk of deer being infected with Lepto on farms with sheep and/or cattle. This suggests that there is direct transmission of infection between different farmed livestock species, an important consideration for vaccine programmes.
There is also an increased prevalence of infection and clinical disease in wet years which will have relevance in assessing risk in different regions and climates.
The incidence of clinical Lepto outbreaks in all livestock in drier, South Island areas is undoubtedly far lower than in other parts of New Zealand. However, there will be localised differences in things like populations of and exposure to wildlife vectors such as pigs and rats.
The potential for sub-clinical infection cannot be underestimated, particularly on mixed-species farms with the potential for waxing and waning of exposure and infection from year to year.
A summary of Lepto studies out of Massey University in 2014 (going back to the mid-2000s) revealed some examples of the production effects of subclinical Lepto infection in deer.
One study revealed a 3.4kg average lower liveweight for a deer at 12 months of age compared to its vaccinated herd-mates.
In another study, there was a 49 grams/day higher spring growth rate in vaccinated deer compared to their unvaccinated herd-mates across three farms with evidence of L. Hardjo-bovis infection.
Yet another study showed improvements in growth rates of vaccinated weaner deer from March to November of 12.4 grams/day, 16.3 grams/day and 26.5 grams/day where there was herd infection prevalence of 5%, 6.7% and 87.5% respectively.
Reproductive effects were shown through a study where there was a difference in weaning rates of 97% in vaccinated hinds versus 88% in a herd infected with L. Hardjo-bovis and L. Pomona.
Improvements in weaning percentages, ranging from 1.3% to 9.2% in Lepto-vaccinated hinds, were shown on multiple farms through another study.
Vaccination is a highly effective method of preventing Leptospirosis infection in deer. However, human-health risk aside, the cost-benefit of vaccinating from a productivity point of view is not always there.
This may require a discussion with your veterinarian around your farming system. This will include such things as species mix, breeding policy, stock trading policy, environment and herd performance. However, a "toe in the water approach" to the prevalence of Lepto infection of your herd could be to consider blood testing a sample of first-calving and mixed-age hinds for Lepto antibodies at scanning time in the winter.
Hayden Barker, Vetlife Pleasant Point